Is Real Estate Affected by the Presidential Elections?
Yesterday, I noticed again that the stock market was going up. I knew from my past experience as a stock broker that historically the stock market goes up in an election year (only 3 elections where it didn't)…. and it is especially true when an incumbent is looking for a second term. The president running for re-election tries to ensure that the economy is strong going into November.
So, I was curious what happens to the real estate market during a presidential election year…. and found out that historically the real estate market softens both in sales and price.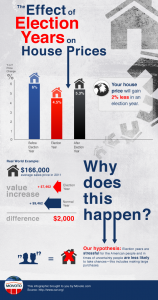 According to Moveto blog "Election years are bad for home prices" the appreciation rate will be 1.5% less in an election year.  The hypotheses is that the presidential election years are stressful and in times of uncertainty people are less likely to take chances… including home purchases.
As one buyer told me recently, the uncertainty of who will be elected and knowing that each political party has certain policies for the economy, creates a risk for him to make any decision on buying or selling real estate at this time.
Yet, San Diego real estate is showing a different picture this year with it's low inventory in the median price range and many buyers bidding up the price to obtain a home now rather than wait for the election in November. We are even seeing home sales in the higher end real estate in Del Mar, Rancho Santa Fe and La Jolla.